Sussex vicar guilty of immigration marriage scam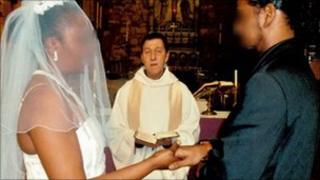 A vicar has been found guilty of carrying out hundreds of fake marriages to bypass immigration law.
Of the 383 weddings Reverend Alex Brown conducted over four years at the Church of St Peter and St Paul in St Leonards, Sussex, 360 of them were shams.
Crown Prosecution Service said it was thought to be the largest sham marriage case it had brought to court.
The jury at Lewes Crown Court convicted the 61-year-old of conspiring to facilitate illegal immigration.
Two co-defendants have also been found guilty of the same offence.
One co-defendant, Vladymyr Buchak, 33, paid eastern Europeans up to £3,000 each to marry Africans, mainly from Nigeria.
And another - solicitor and pastor Michael Adelasoye, 50, of St Matthews Drive, St Leonards - used his knowledge of the law to help illegal immigrants with applications to the Home Office.
The court heard Adelasoye knew many of the participants through his role as pastor of the Ark of Hope evangelical church in Hastings.
But when giving evidence, Adelasoye told jurors: "I have a lot of respect of the sanctity of marriage."
During the trial, jurors heard Brown did not follow Church of England procedures for reading out marriage banns for a substantial part of the indictment period.
The jury was told Brown, of Blomfield Road, St Leonards, had pleaded guilty to a charge of solemnising a marriage without the banns being duly published.
The court heard Brown conducted the 360 sham ceremonies between July 2005 and July 2009.
The defendants were caught after the UK Border Agency investigated the bogus marriages.
Brown was arrested last June and both his vicarage home and church were searched. He was suspended from duty.
Investigators found documents he had doctored, including the church's electoral roll and a second copy which hid a dramatic increase in weddings at the church.
The court heard how Buchak, of Anglesea Terrace, St Leonards, a Ukrainian national who had lived illegally in the UK since at least 2004, had been responsible for "cajoling and persuading" people into marriages of convenience.
He preyed on migrant workers who were living in the area and desperate to earn money.
Jurors were shown photocopies of the marriage register which showed hundreds of people who had got married all seemed to live in a small number of streets, with 90 couples registered as living in one road and 52 in another.
In some instances, several brides and grooms claimed to live in the same house. The court heard most of those involved in the marriages had given false addresses.
Giving evidence, Brown insisted he only ever married couples he was sure were together for the right reasons and said he only made exceptions if the bride-to-be was about to give birth.
He admitted he occasionally forgot to check passports of foreign nationals and said he became suspicious of one or two couples, but only because of the vast differences in age between bride and groom.
Sentencing was adjourned until 6 September for pre-sentence reports to be carried out on Brown and Adelasoye.
Judge Richard Hayward remanded Buchak in custody and gave Brown and Adelasoye continued bail, but added: "You have been convicted on very clear evidence of a very serious offence and the court will be considering all sentencing options."
Outside court, Archdeacon of Lewes and Hastings Philip Jones, said: "We are particularly sorry for those who have been deceived and hurt by the actions of Father Alex Brown.
"The church and the community of St Leonards-on-Sea are faced with a betrayal of trust."
He added: "The Diocese of Chichester sets high standards and expects its clergy not only to comply with the law but also to honour the trust placed in them at their ordination and the promises made on becoming a vicar."
He said the diocese was "saddened" and conscious of the effect on the church. He added that people who had been properly married there had felt concerned about what had happened.
Brown could now face disciplinary action, he added.
After the hearing, Det Insp Andy Cummins, from the UK Border Agency, said it was an unprecedented investigation, involving a church minister who was prepared to abuse his position - and the trust placed in him by the church and his community.
He said: "The members of this conspiracy were happy to exploit and take advantage of other people's desperation for their own ends."
Ken Goss, from the Crown Prosecution Service (CPS), said the case was unusual because Brown was prosecuted under the Marriage Act 1949, for deliberately failing to follow correct procedures.
"This painstaking investigation and successful prosecution has halted a deliberate and systematic abuse of the immigration laws of this country," he added.
Immigration minister Damian Green said the convictions sent a clear message that Britain was "no longer a soft touch".
He said specialist teams of immigration and police officers were working to tackle this form of organised criminality.
"We are determined to create a hostile environment which makes it harder than ever for illegal immigrants to come to the UK and put untold pressures on our public services," he added.