Penis photo posters seized by police in Lewes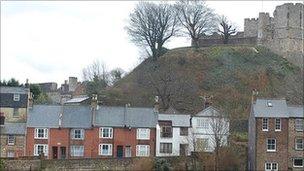 A person who put up enlarged photographs of male private parts around a town in Sussex is being sought by police.
Several large images of a man's penis with a yellow bow tied around it have been taken down from car parks and places close to schools in Lewes.
Sussex police have interviewed people at offices close to where the A3 and A4-sized images were found.
The posters have also been sent off for fingerprint analysis.
The force is also investigating whether it is some sort of protest, as a number of the images included a caption which read: "Fees set to rise later this year."
A Sussex Police spokesman said: "We are aware of these posters and a local PCSO [Police Community Support Officer] has removed a few, but we have not received any formal complaints.
"However, we are concerned that the posters have appeared quite close to local schools and they may well cause offence or distress.
"However, from what we've seen, if this is a self-portrait, the artist won't be in a hurry to be identified."
Related Internet Links
The BBC is not responsible for the content of external sites.