Warning over £50m Sussex Police budget savings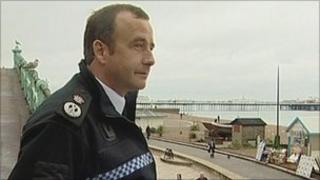 Sussex Police budget savings of up to £50m will have "a dramatic impact on fear of crime", according to an authority member.
Ben Duncan, of Sussex Police Authority, said the savings would hit visible policing.
Staff across the force received an e-mail last week from Chief Constable Martin Richards saying that Sussex must make savings of £50m by 2015.
Mr Richards said job losses were likely but public service remained a priority.
He said he would not know the final level of savings required until after the government's spending review was completed.
'Most vulnerable victimised'
Mr Duncan, who is also a Green Party councillor in Brighton, said: "It's fear of crime that actually affects the most vulnerable of our society as much as crime.
"If we concentrate entirely on reducing crime but stop worrying about the kind of visible policing that makes people feel more confident about fear of crime then I think that a lot of the most vulnerable people are going to carry on being the most victimised, if you like, by these cuts."
Chairman of the Sussex Police Federation Insp Bob Brown said frontline services would be protected.
He added: "There is some concern out there that police officer numbers will be reduced but my members realise that they are not subject to normal employment law.
"There's actually very little that a police authority or the police service can do to actually make police officers redundant and lose their jobs overnight."