Church school travel to face axe in East Sussex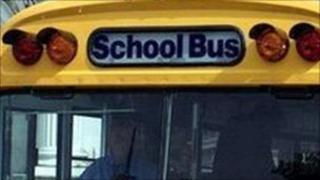 More than 1,350 pupils in East Sussex are likely to lose travel subsidies to church schools which cost the county council £500,000 a year.
Primary school pupils currently get subsidised travel to faith schools over two miles away and secondary students to schools over three miles away.
But the council said it could no longer afford to provide the funding, which is not a legal requirement.
The council ended free transport to denominational schools in 2007.
The new policy will apply to families which have chosen a faith school instead of a local school within the two or three mile zone.
"We need to be very clear that this is about proposed cuts to support we currently choose to provide," said Councillor Keith Glazier.
"Many other local authorities do not provide any assistance for families who chose church schools over their local school.
"And other parents who choose not to send their child to a local school have to pay the full transport costs."
'Little choice'
Cuts in government grants to the council mean it has to find £192,000 savings in the school transport budget.
Earlier this month, the council said children's services and transport and the environment would bear the brunt of total cuts of £8.35m this year.
"The cuts the Government is making to our grants mean we have little choice but to make some difficult decisions about what services we can afford to provide," said Mr Glazier.
"Our priority has to be to protect key frontline services, especially those for vulnerable children, and we are having to look at all services to see where savings can be made."
The cuts will not affect the statutory free transport provided for other pupils.
Parents are to be consulted on council's plans between 22 July and 30 September.
A final decision will be made in the autumn, with church school transport likely to be cut from January.