Lawyer accused of sham marriage scheme 'acted legally'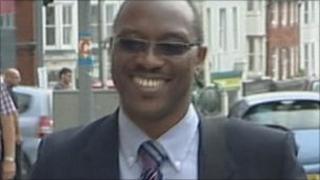 A solicitor accused of being involved in a sham marriage scheme has insisted he acted with "integrity and honour".
Michael Adelasoye, 50, is alleged to have used his specialist knowledge of the law to help illegal immigrants with applications to the Home Office.
Hundreds of sham marriages are alleged to have been conducted by his co-defendant the Reverend Alex Brown, 61, in St Leonards-on-Sea, East Sussex.
Both men deny conspiring to facilitate illegal immigration.
A third defendant, Vladymyr Buchak, 33, has also pleaded not guilty to the charge.
It is alleged they arranged for hard-up eastern Europeans to be paid cash sums in return for marrying Africans at the Church of St Peter and St Paul so they could stay in the UK.
'Quite happy'
Mr Adelasoye told Lewes Crown Court on Thursday he had done nothing wrong and his actions had fallen within the legal framework.
Prosecutor David Walbank put it to the Nigerian-born solicitor that he entered into the conspiracy to help improve the prospects of people who were experiencing severe immigration difficulties.
Mr Adelasoye, who knew many of the Africans through his role as pastor of the Ark of Hope evangelical church in Hastings, replied: "That was not my job and I didn't do that.
"I'm a lawyer and I'm a pastor and I'm quite happy with my life."
Mr Adelasoye denied entering into any "business" with Mr Brown.
Mr Walbank said he directed clients with immigration difficulties to the Church of St Peter and St Paul, then submitted applications to the Home Office based on their sham marriages.
"That is not true," Adelasoye said.
"I have acted with integrity and I have acted with honour. I have done nothing wrong.
"I have never said that I was the best thing since sliced bread, but I have always done my best within the legal framework."
The trial continues.