Guildford pub bomb family demands fresh police probe
By Tanya Gupta
BBC News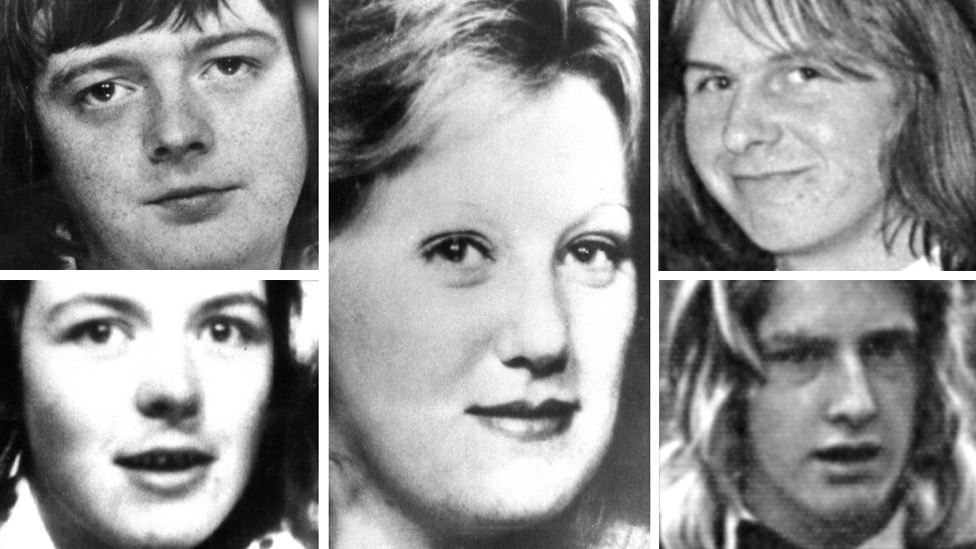 Police should reopen an inquiry into an IRA bombing which killed five and left 11 people wrongly imprisoned, a family of one of the victims has said.
The IRA attacked two Guildford pubs in 1974 as its terror campaign escalated.
Two men admitted to carrying out the bombings, but Cassandra Hamilton, a sister of a victim, said she is still searching for answers, despite an inquest concluding last month.
Surrey Police said it was considering whether reinvestigation was viable.
The Guildford Four and Maguire Seven were wrongly-convicted, before IRA men Brendan Dowd and Joe O'Connell claimed responsibility.
An inquiry later revealed officers from Surrey and the Met did not question the pair over Guildford. The inquiry did not criticise police.
"The police should have questioned them, I have said that all along," said Ms Hamilton, who called on Surrey Police to re-investigate the case.
She said she still wanted the police to ask the alleged bombers the questions that should have been asked then, adding: "If they have done it, they must be held accountable, however late.
"You don't go around killing people and not expect to have any prosecution.
"I still want to know why them [the victims that were targeted] and why at that time? What gives them the right to take lives?"
Accusing police of "incompetence", she added: "They got the Guildford Four and they thought that was it. They never looked for anyone or anything else."
The inquest held by Surrey coroner Richard Travers did not have the scope to explore who was responsible for the bomb or any claims that police lied during the trial of the Guildford Four. The coroner concluded the victims were "killed unlawfully".
The sister of wrongly-jailed Gerry Conlon, Bridie Brennan, said she would welcome a "true and honest" inquiry and one that was not going to take years.
Ms Brennan said "the truth has been hidden and always has been".
Paddy Armstrong, another Guildford Four man, said in a statement with his lawyer that police had "done nothing" for 46 years.
They said Surrey Police has had "sufficient evidence to secure a conviction since 1977".
The BBC has been shown, confidentially, Dowd and O'Connell's confessions.
Both said another man and two women were also part of the bombing team but they did not give their names.
O'Connell described how two bombs were made at an IRA safe house in Waldemar Avenue, London, and taken to Guildford.
Dowd's open court files revealed, however, that he had already told Hampshire Police which IRA members had used Waldemar Avenue when he was there, including two women.
O'Connell had already told the Met he had moved into Waldemar Avenue in August 1974, the same files also showed.
Another man's fingerprints had been found on the rental agreement for Flat 7 Waldemar Avenue, police papers which emerged in 1990 revealed.
The 1976 confessions had claimed the third man made the timing devices for the Guildford bombs, which had used adapted watches.
Dowd's files were opened in 2010 at The National Archives, and can be viewed by members of the public at Kew.
On BBC Radio Surrey, Cassandra Hamilton told Surrey's chief constable Gavin Stephens: "When the Guildford Four were released and there was evidence they hadn't done it, no one thought then to reopen the case.
"Obviously, there's someone out there that's done it. Two people - known IRA members - have actually confessed that they did it, and haven't even been questioned."
Mr Stephens said he recognised he as chief constable inherited the force's history.
He said the investigation team had "a much clearer picture" after the inquest.
Asked about funding, Mr Stephens said: "Where we have a case where somebody's lost their life and a murder investigation is required, money never comes into the equation."
He said police had a "solemn responsibility" to investigate.
When Dowd and O'Connell made their confessions they were already serving jail terms for other offences.
Their confessions were made ahead of the Guildford Four's 1977 appeal against their wrongful convictions. Both Dowd and O'Connell were later released under the Good Friday Agreement.
Deputy Chief Constable Nev Kemp, from Surrey Police, said: "Alongside the [inquest] disclosure process, we have been assessing all the material held by the force to consider whether re-investigation is a viable option.
"That assessment is complex and remains ongoing. It will also need to take into account evidence that has come from these proceedings. No timescale has been set for it to be finalised, but once complete it will be considered by the force and we will provide an update when this has been concluded."
The Met Police said the Guildford pub bombings investigation was a matter for Surrey Police and declined to comment.
Christopher Stanley, from KRW Law, who represent the Hamilton family, said: "Whether Surrey Police agree to re-investigate or another agency is invited to - such as Operation Kenova in Northern Ireland - the questions unanswered by the inquest must be answered by a criminal justice investigation."
He said families in the Birmingham pub bombings were negotiating with the Home Office over a statutory inquiry "which may be a necessary solution here".
Operation Kenova was set up to investigate offences alleged to have taken place during the Northern Ireland conflict.
Former defence lawyer for the Guildford Four, Alastair Logan, said: "The two forces that should not carry out an investigation are Surrey and the Met." Mr Logan said it should be done by another police force.
Related Internet Links
The BBC is not responsible for the content of external sites.