Surrey war veteran reunited with WW2 medals after repair mission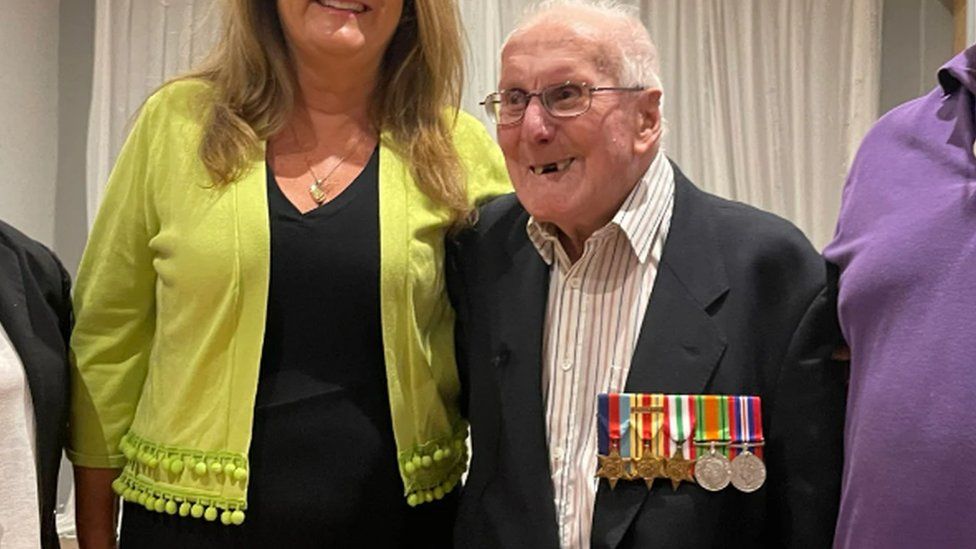 A 102-year-old war veteran who was unable to wear his medals due to the poor condition of the ribbons can finally pin on his honours again.
The medals were sent to specialists in London who helped restore them.
Mr Wigley, from Epsom, Surrey, said: "It makes you feel a little proud. I'm very grateful."
He joined the 38th Signal Training Regiment Royal Artillery in 1940, and went on to be awarded five medals, including the North African Star and the Italian Star.
Mr Wigley said: "I forgot all about them in their cardboard box. When I went to get them out I couldn't wear them. The ribbons were all frayed."
Helyn Clack, chairman of Surrey County Council and the Surrey Civilian Military Partnership Board, said: "We are celebrating the repair and return of the medals that George so richly earned.
"I'd like to pay tribute to him and indeed all those across Surrey who have served, and are currently serving, for their courage and contribution."
Mr Wigley now hopes to be able to wear his medals again at future events and reunions.
Related Internet Links
The BBC is not responsible for the content of external sites.