Guildford pub bomb inquest: Police officer described scene as 'bloodbath'
By Tanya Gupta
BBC News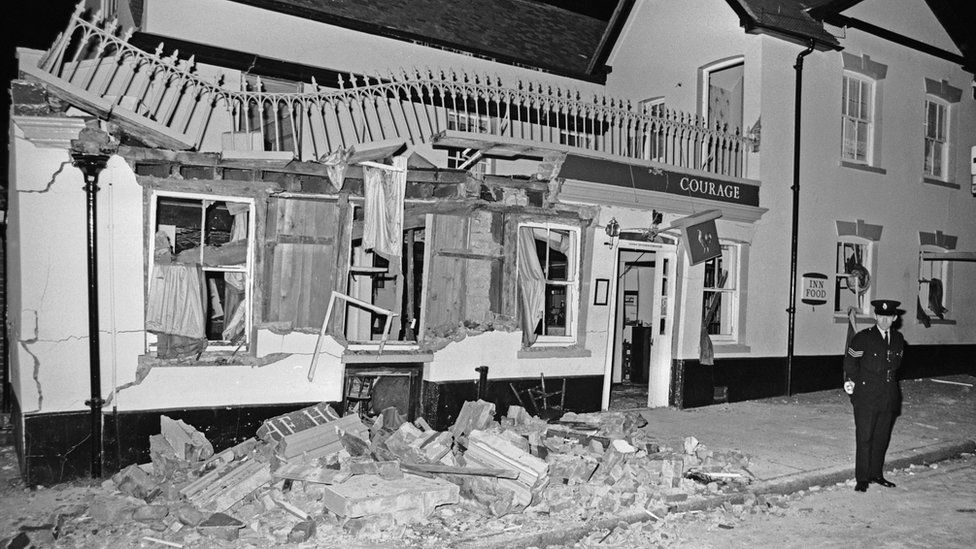 A police officer who entered a pub moments after it was hit by an IRA bomb described the scene as a "bloodbath", an inquest heard
Jacqueline Parrish was driving a patrol car past a pub in Guildford on 5 October 1974 when the blast sent bricks and rubble flying in the air.
In a statement she made soon after, that was read to the coroner, she said she looked through the pub's collapsed floor and saw "a pile of bodies".
Five people died in the attacks.
Two soldiers' pubs in the town were bombed, and 65 people were injured.
The Guildford Four and Maguire Seven were wrongly-convicted before the IRA claimed responsibility.
The inquest at Woking Coroner's Court had previously heard how people were drinking in the bar of the Horse and Groom before they fell into a cellar exposed by the blast.
After she stopped her patrol car, Ms Parrish radioed for help and told the Surrey police force there had been an explosion at a public house, there were many casualties and urgent assistance was required.
"I threw the handset into the car and ran into the pub through the front door," she said, in the statement from 1974 that was read to the court.
"It was very dark. You just couldn't see to do anything. There were people shouting hysterically, screaming. Someone shouted 'get out, there might be another one'.
"I ran back to the vehicle to get a torch and saw people run from all directions towards the scene. I shouted to stay back. I don't think anyone took much notice."
She said she helped an injured soldier sitting outside the pub, before running back inside.
"By now the dust had settled. People were still screaming. It was a bloodbath and utter chaos. You just didn't know where to start. People were standing in the way. I shouted 'for Christ's sake, get out of the way'."
The inquest heard she saw a large hole in the floor and knew it had collapsed.
Ms Parrish said: "I knelt down before the hole. I looked in. I saw a pile of bodies, arms and legs. Some were obviously dead."
She continued to help with stretchers and blankets and moving people out of the building before she heard a second blast at the Seven Stars pub.
Those who died were 21-year-old civilian Paul Craig and soldiers Ann Hamilton, 19, Caroline Slater, 18, William Forsyth, 18, and John Hunter, 17.
Related Internet Links
The BBC is not responsible for the content of external sites.