Jonathan King child abuse trial: Surrey Police criticised over collapse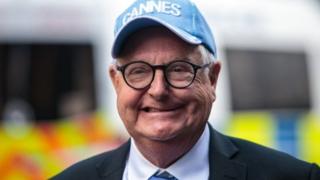 A series of failures with the Surrey Police investigation of Jonathan King for alleged sex offences led to his trial collapsing, a report has found.
Charges against the former pop producer and DJ were thrown out in June 2018 over failure to disclose evidence.
An independent review found mistakes in the police investigation of leadership, supervision and disclosure, and has made 27 recommendations.
King was acquitted of 23 serious sexual assault charges against teenage boys.
The offences, which he had denied, were alleged to have taken place between 1970 and 1988.
The 74-year-old was previously found guilty at the Old Bailey in 2001 of sex offences against five youngsters aged 14 and 15.
'Persons of prominence'
He was released from jail in 2005 after serving half of a seven-year jail term for abusing underage boys between 1983 and 1989.
The review was carried out by Operation Hydrant, which co-ordinates the national policing response to investigations of non-recent child sexual abuse involving persons of prominence.
The four-year investigation into the alleged offences, known as Operation Ravine, was criticised for both the way it was run, and how it was resourced.
The report found that it was understaffed and did not have enough detectives with the right skills.
It also found that when looking at what documents to disclose to defence lawyers, an investigator used a key word search that was only searching the titles of some documents, not the actual text.
"It is highly likely the prosecution would have survived in the absence of this initial key word search policy," the report said.
"That policy was a well-intentioned decision made by a team member employed via an agency, but who was not sufficiently qualified or experienced for the role they were assigned."
Acclaimed producer/pop star to disgraced music mogul:
Jonathan King wrote and sang his first hit, Everyone's Gone To The Moon, as a Cambridge undergraduate in 1965. It sold 4.5m copies around the world
He remained at college, becoming one of the first independent record producers, writing and producing other hits, before fronting his own TV series
He discovered and produced Genesis, with Peter Gabriel as lead singer, and in 1971 produced The Bay City Rollers, singing backing vocals on their first hit
He ran Decca records in the late 1960s at the age of 22, and again in the late 1970s. He formed his own label, UK Records, producing hits with 10cc
By the late 1970s, King was a successful British pop producer and pop star, performing several big hits under different pseudonyms
He once claimed he had 20 Top 30 hits under 20 different aliases
In the 1990s he was writing and producing The Brits, before taking over A Song for Europe in 1995
King was arrested in late 2000, and jailed the following year for seven years after being found guilty of four indecent assaults and two serious sexual offences against boys aged 14 and 15, in the 1980s
He was freed from prison in March 2005 after serving half his sentence, and banned from working with children
The former music mogul was arrested on suspicion of historical child sex offences in 2015 and released on bail
He was charged in May 2017, and went on trial in the following June, accused of 24 sexual assault offences against boys between 1970 and 1988
On 27 June 2018, the jury was discharged and King, then 73, was acquitted
Surrey Police's Deputy Chief Constable, Nev Kemp, said: "We are sorry for the impact this has had on victims and those involved in the case.
"At the heart of all this are a number of victims whose evidence was regrettably never tested in court."
Police conduct
In response to the report, King said while it was "thorough and efficient" he still had "two major areas of disagreement".
In a letter to Richard Fewkes, national co-ordinator of Operation Hydrant, he questioned "the damage done to victims of false allegations", saying "surely Hydrant should be urging the prosecution of liars".
King also questioned police behaviour and said the conduct of individual officers should be examined.
A spokeswoman for Operation Hydrant said it was commissioned by Surrey Police "to co-ordinate an independent review of the issues resulting from the trial of Jonathan King in 2018".
"The review resulted in a report provided to Surrey Police," it added.
Follow BBC South East on Facebook, on Twitter, and on Instagram. Send your story ideas to southeasttoday@bbc.co.uk.