Lee Pomeroy murder accused told ex 'I've done something bad'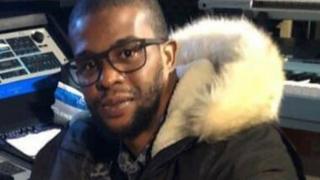 The man accused of murdering a passenger on a train called his ex-partner hours later and told her "I've done something bad", a court has heard.
Sarah Fry, who is the mother of Darren Pencille's son, said he called her during the evening and sent her a text, saying: "I'm sorry. I love you both."
Mr Pencille, 36, denies murdering 51-year-old Lee Pomeroy on 4 January.
His lawyer told the Old Bailey he did not deny stabbing Mr Pomeroy but said it was in self-defence.
Ms Fry told the court she received a call from her former partner at about 21:30 GMT on the night of the attack.
"He said, 'I've done something bad today and you'll see it in the news'," she said.
She added: "I disconnected the call and that's the last time I spoke to him. That's all that was said."
'Sort of patronising'
The Old Bailey also heard from Mr Pencille's mother that he had been treated for paranoid schizophrenia in his 20s.
Ingrid Robertson said her son had a fear of crowded places and public transport.
She said: "He always thought people were looking at him or wanted to do something to him."
Earlier, Kayleigh Carter, who had been on the Guildford-to-London train, told the court Mr Pencille had appeared angry, while Mr Pomeroy was "really stern, stubborn" and "sort of patronising".
She said the cause of the disagreement was unclear, but she recalled one of the men saying: "All I did was be in the way."
She added: "I thought it was really petty if it's just about that."
Giving evidence from behind a screen, Ms Carter said the pair had an argument, during which Mr Pencille had picked up his mobile phone and said: "I'm going to kill this man."
She said Mr Pomeroy had told the defendant during the confrontation: "I have never dealt with someone with special needs before" and that it appeared he was "egging it on", with Mr Pencille responding: "I'm hearing voices right now."
"I wouldn't say (Mr Pomeroy was) picking on him, but he was taunting him," Ms Carter told jurors.
Home Office pathologist Dr Olaf Biedrzycki told the court Mr Pomeroy had died from just one of the 18 stab wounds inflicted on him.
He said the 6cm-deep wound to the neck had cut the jugular vein and the carotid artery, but that "with very prompt treatment, you could reasonably [have expected] him to recover" from the other 17 wounds.
The jury also heard police established that Mr Pencille and his girlfriend, Chelsea Mitchell, drove to Bognor Regis after the stabbing before returning to her home in Farnham, Surrey.
During that time, they searched the internet for hotels in Sussex and Gatwick and for news of the stabbing.
Ms Mitchell denies assisting an offender.
The trial continues.
Follow BBC South East on Facebook, on Twitter, and on Instagram. Send your story ideas to southeasttoday@bbc.co.uk.