Child abduction arrest at Egham Christmas fair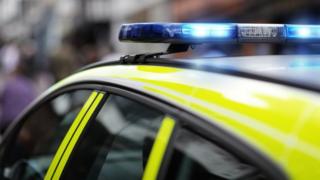 A man who allegedly tried to grab a six-year-old girl at a Christmas fair, after attempting to lure her with sweets and toys, has been arrested.
The 47-year-old, being held on suspicion of the attempted abduction of a child, was apprehended in Egham High Street, Surrey.
Officers were called to the fair at 12:40 GMT on Saturday.
Police are reviewing CCTV and speaking to witnesses, but are still appealing for further information.
A Surrey Police spokesman said: "We would like to reassure parents that, while the man is unknown to the child, the child did not leave the immediate vicinity of their parent, and, although understandably scared, the child was not physically harmed during the incident.
"Officers were on the scene within minutes of it being reported and promptly arrested the man.
"Incidents of this type are very rare and we would ask for the public to allow us to carry out our work and investigate fully, rather than jumping to conclusions."
The force is looking to speak to any parents who think their child may also have been approached by a man on Saturday.