Surrey County Council 'behind the curve' on service cuts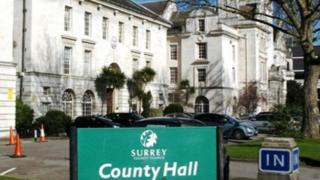 A cash-strapped county council facing "impossible" cuts to key public services is paying a price for lagging behind, a senior accountant says.
Surrey County Council, which must find £200m of savings over the next three years, is "behind the curve", according to the public finance body CIPFA.
Its chief executive, Rob Whiteman, said it should have made the cutbacks earlier to minimise the impact.
The council says it has "a clear plan" to make its finances sustainable.
Surrey says it has been particularly hard hit by cuts in government support since 2009.
In a report commissioned earlier this year, CIPFA (the Chartered Institute of Public Finance and Accountancy) warned that Surrey needed to act urgently to bridge a substantial funding gap in 2019-20.
The report says this year's £36m shortfall could rise to £94m by 2021.
As the council braces itself for news of the coming year's government allocation, CIPFA says it is taking the right action - but rather late.
Mr Whiteman said: "It is the case that other councils who are not having to take some of these decisions at the moment... it's because they've already done it and they've tried to get ahead of the curve."
The council has flagged up a number of vital services that face cutbacks, including the closure of children's centres, rubbish tips and reducing free bus travel for disabled people..
Richard Watts, chairman of the Local Government Association resources board, said: "Many councils are facing impossible decisions that councillors absolutely don't want to take but have no other way of balancing the books.
"You can't go on demanding councils do more and more... at the same time as continuing to cut money and expect services to stay the same."
The council said in a statement: "We're very much focused on the future and have a clear plan in place to make our finances sustainable, despite the huge increase in need for services such as social care.
"There's a lot we need to do to achieve this and there will be some difficult decisions to make."