Reigate and Banstead police get angry parking note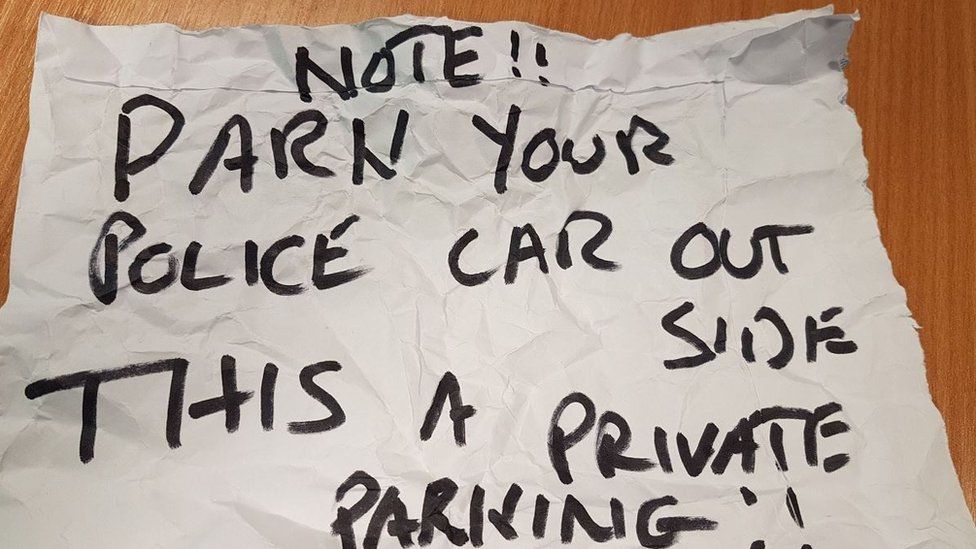 An angry resident put a note on a police car parked during an emergency saying: "This is private parking!"
When officers explained why their car was in a residents' parking bay, the writer of the note said: "I don't care - it's not my emergency."
Officers from the Surrey force said on Facebook: "We apologise for our inconsiderate parking during a potentially life or death situation."
They were dealing with a suspected assault in Horley at the time.
A spokesman from Reigate and Banstead police said: "Unfortunately the officers parked in a resident's bay in a rush to get into an address.
"When the officers finished at the address and spoke to the person who put the note on their car, they explained they were responding to an emergency."
The Facebook post has been shared more than 800 times and has more than 1,000 comments.
Mike Howell said: "Total lack of respect for the emergency services. Bet whoever placed this note required police officers asap, they sure wouldn't mind if police parked in their front garden. Complete and utter idiot!!!"
You may also be interested in:
Phil Flower reassured police: "You can park on my drive anytime, and I'll even provide tea or coffee as needed."
And Barbara Taylor added: "Disgusting. He should be prosecuted for his behaviour."
Surrey Police said it would not be taking any action against the owner of the driveway.
Related Internet Links
The BBC is not responsible for the content of external sites.