Former Guildford GP 'assaulted patients as young as nine'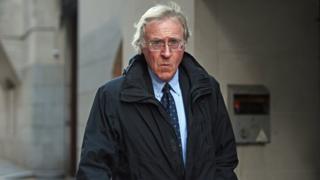 An "arrogant" GP sexually assaulted patients as young as nine during medical examinations, a court heard.
Alan Tutin, 70, is charged with molesting 25 women and girls for his own "sexual gratification" over his 24-year career at Merrow Park Practice in Guildford, Surrey.
The offences are alleged to have taken place between 1981 and 2004.
Dr Tutin denies 27 charges of indecent assault and one of assault by penetration.
Opening his trial at the Old Bailey, prosecutor Sally O'Neill QC said Dr Tutin, now of Crittenden Road, near Tonbridge, Kent, took advantage of his position to assault a large number of women.
"These allegations span almost the entirety of his time at Merrow Park and involved his female patients, the youngest being nine and the eldest in her forties," she said.
'Breasts fondled'
Allegations were also made by two medical professionals who came into contact with the doctor through their work.
Ms O'Neill said the assaults were "typically committed under the guise of breast examinations or vaginal examinations".
She said some of the checks were "entirely unnecessary... carried out for his sexual gratification" while others "may have been justified... but were carried out in a totally inappropriate way".
The first complainant said she had her breasts "fondled" when she was about 17 years old during an appointment about the contraceptive pill.
Another woman said Dr Tutin tried to masturbate her during an internal examination when she was pregnant in the early 1980s.
Another has claimed he told her to "get her kit off" and commented on the size of her breasts before groping her, making her feel "dirty and violated".
The youngest accuser was aged nine when Dr Tutin caused her to "cry out" in pain during an intimate examination, the jury was told.
The father-of-four joined the surgery in 1980 and stopped practising in 2004.
As a senior partner he "wielded a lot of influence", Ms O'Neill said.
She told jurors Dr Tutin had "quite a dominant personality and perhaps a somewhat arrogant and brusque way of dealing with both patients and staff", and "may have felt himself to be untouchable and unchallengeable at the time."
The trial continues.