Europa Oil & Gas withdraws Surrey Hills test drilling bid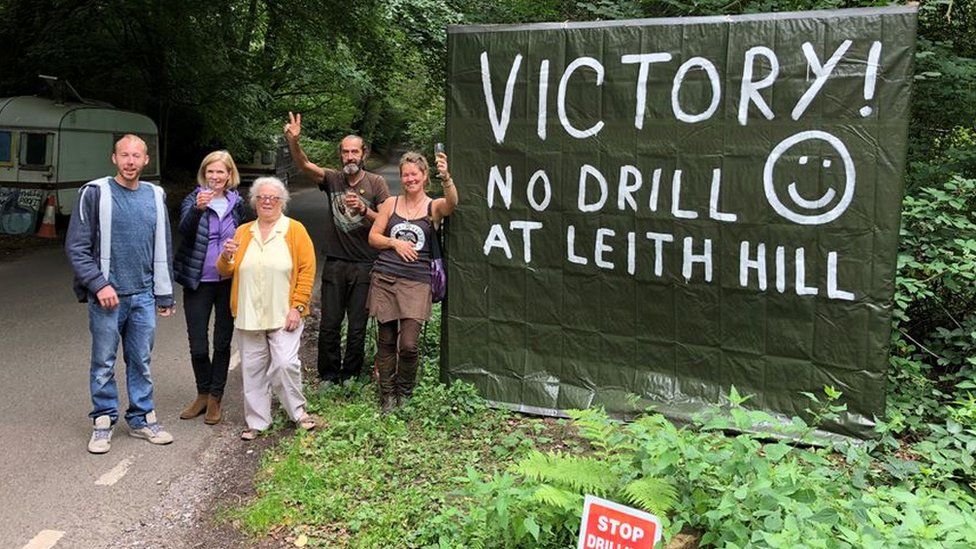 A planning application to drill for oil in the Surrey Hills is to be withdrawn after the government decided not to renew a lease, an energy firm has said.
Europa Oil & Gas had applied to carry out exploratory drilling at Bury Hill Wood, near Dorking, an area of outstanding natural beauty (AONB) .
But the firm said its lease expires next week and it would withdraw its bid to drill at the Coldharbour Lane site.
Campaigners said it had always been a "completely inappropriate location".
The Surrey Hills AONB includes well-known beauty spots such as Box Hill, Leith Hill and the Devil's Punch Bowl.
The government confirmed Environment Secretary and Surrey Heath MP Michael Gove had decided not to extend Europa's lease on Forestry Commission land.
By Tom Edwards, Environment correspondent, BBC News
"The news was unexpected but it has been welcomed with hugs, cheers and champagne underneath the lush woodland canopy by protesters and local villagers who have fought this drilling for 10 years.
"The camp has been up on the top of the beautiful Leith Hill for some of that time and it has been supported by local campaign groups and villagers.
"This morning the environment secretary said drilling would be detrimental to nearby ancient woodland.
"Although Defra says each decision is made on a case-by-case basis, campaigners hope this shows people power does work and the victory will energise the wider fracking debate."
The company's chief executive Hugh Mackay said the decision was "disappointing".
Lucy Barford, from A Voice for Leith Hill, said: "Local campaigners have been fighting Europa's plans for a decade and we are overjoyed that the Forestry Commission and the government minister have finally seen sense and put a stop to the horrendous prospect of oil being drilled in such a beautiful and vulnerable environment."
A Defra spokeswoman said: "The nation's woods and forests are cherished natural assets and we want to ensure they are protected now and into the future.
"Any decisions on activity within the Public Forest Estate are made on a case-by-case basis, taking into account the environmental impacts and latest evidence.
"Because of the potential impact on nearby ancient woodland, the Environment Secretary has decided not to extend Europa Oil and Gas's lease to carry out activity in Forestry Commission land."
Related Internet Links
The BBC is not responsible for the content of external sites.