Reigate toy shop: 'We are not a child-minding service'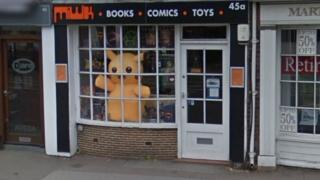 Parents have been urged to stop abandoning their children in a toy shop while they go off shopping.
Matthew West, of Miwk in Reigate, Surrey, said his shop was not a child-minding service.
He said he once called police because three children had been there for two hours - their mother was tracked down 14 miles away in Croydon.
Other times staff have had to stay late because young children were still there when the shop closed.
You may also be interested in:
Mr West wrote on Facebook: "Nobody is watching your kids. We have a tough enough time looking after our own."
He said staff understood people liked to browse, but the business had been used as extended childcare by people who were not customers and did not intend to buy anything.
The woman who left three children there for hours was buying a mattress and had not wanted to take them with her, he said.
Surrey Police has not yet commented on that case.
Mr West said: "We're not unreasonable here.
"We get regular kids popping in after school or during the holidays to browse and kill some time. We're fine with that.
"But we are not a child-minding service. Knowingly leaving your kids in a shop while you do something else is not fair on them or us."