Deepcut barracks boss 'would have known about bullying'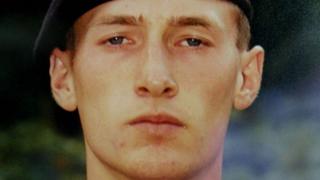 A former commander of an Army barracks where a recruit died of gunshot wounds has told an inquest he would be "absolutely horrified" to learn anyone had been bullied.
Retired brigadier Paul Evans, who was in charge of Deepcut from 1993 to 1996, said he was certain he would have known of any mistreatment.
Pte Sean Benton, 20, was found with five bullets in his chest in June 1995.
He was the first of four soldiers to die at the base between 1995 and 2002.
Paul Greaney QC, representing Pte Benton's family, said the inquest had evidence that one non-commissioned officer (NCO) could be responsible for up to 400 trainees at the barracks.
He outlined alleged incidents carried out by NCOs in 1994 and 1995 including assaulting and bullying trainees, deliberately humiliating a recruit, screaming in the face of a trainee and allowing a trainee to be assaulted or bullied by fellow recruits.
Brig Evans agreed any of those incidents would have been unacceptable but insisted he was unaware of any mistreatment.
He said: "I would be absolutely horrified to learn of an incident where there was mistreatment or bullying of any single person. Absolutely horrified.
"I'm absolutely certain if bullying or mistreatment was happening or was endemic then I would know about it."
After the death of a second recruit, Pte Cheryl James, Brig Evans conducted a review, the inquest heard.
The review did not identify any mistreatment, but found some aspects of the Deepcut regime had "contributed to soldiers' unhappiness".
The review found there was a "lack of awareness" of the welfare structure available for recruits; some NCOs saw welfare staff as an "unwelcome irritation"; there was low morale among recruits stemming from frequent guard duties and minor punishments by NCOs; and there was no record of who was punished and why.
A recommendation was made to implement such a register.
Asked by Mr Greaney how he would feel if Coroner Peter Rook QC were to find there had been bullying at Deepcut, Brig Evans said it would be "a matter of huge regret".
He added: "Perhaps what's slightly strange is during my lengthy discussions with soldiers while formulating my review, there wasn't a single suggestion by any soldier of bullying or mistreatment."
He said had he known about any mistreatment, he would have taken "very strong, immediate and appropriate action to stop it".
'Ignored by police'
Former Deepcut trainee Richard Cave told the hearing how recruits would be "beasted" with physical exercise for stepping out of line, or punished with guard duty.
He said he saw a "peer review" happen to Pte Benton, which was when a trainee who had done something wrong had to watch their troop be punished with press-ups.
Mr Cave, who shared a room with Pte Benton, said he was once attacked by other trainees - one in a Halloween mask - before he heard one say: "We've got the wrong bloody bastard, where is he?"
And on one occasion a hot iron was put under his duvet, but he did not report it, he added.
"If you grassed or snitched on anybody they just make your life more hell," he said.
The former soldier, who has PTSD, said he came forward during the inquest having been ignored by Surrey Police when he contacted the force three times in 2002.
He said: "I can't let Sean down. I wish I had done better by him and feel this is my chance to do right by him."
'Respirator gang'
Paul Willey, another Deepcut recruit, said he was told by the guard on duty "welcome to hell" when he first arrived.
He said of Pte Benton: "He just seemed to be in the limelight as it were.
"He just always seemed to be getting a 'beasting' a lot more. He just seemed to stand out a bit really."
Mr Willey said a "respirator gang" used to wear their respirators and "go around at night and basically beat people up".
Asked who was involved, he said: "There was talk of trainees and maybe instructors."
An inquest verdict is expected next month.