Crystal Palace's Jason Puncheon admits bouncer belt attack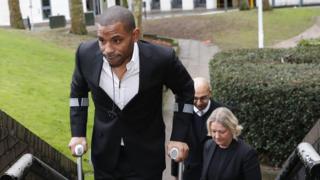 Crystal Palace captain Jason Puncheon has admitted lashing out at nightclub doorman with his belt.
Puncheon, 31, appeared at Staines Magistrates' Court for the start of his trial, but changed his plea.
The footballer, of The Warren in Kingswood, Surrey, admitted a public order offence from 17 December near the Mishiko bar on Church Street, Reigate.
When a bouncer who confiscated the belt tried to return it, Puncheon told him to "keep it... buy a house with it".
'Arrest me, arrest me'
Prosecutor Craig Warsama told the court that after the incident Puncheon was "irate".
"He was shouting 'arrest me, arrest me' in what was described as an aggressive tone," Mr Warsama said.
The court was told a bouncer returned the belt, but the footballer replied: "Keep it, keep it. Buy it. Buy a house with it."
CCTV footage played to the court showed Puncheon lashing out.
Puncheon's lawyer Sallie Bennett-Jenkins QC said he was acting in self-defence after claiming someone had attempted to strike his wife, and that his friend had been punched, but this was dismissed by Judge Michael Snow.
The judge said: "It's quite clear to me that he had completely lost control of his behaviour at that time and he was striking indiscriminately at that group.
"The CCTV is clear and unarguable. He was not acting in self-defence or in the defence of another [when he used the belt]."
Puncheon was given a community order requiring him to carry out 210 hours of unpaid work, and pay the doorman £250 compensation.
A further charge of assault by beating was dropped after no evidence was offered by the prosecution.
A Crystal Palace spokesman said: "This was a regrettable incident and entirely out of character. The matter will be dealt with internally".
In a twist at the end of the hearing, Bromley footballer Ben Chorley, of Oakfield Lane, Dartford, was charged with contempt of court.
After taking a photograph of Puncheon while he was in the courtroom, the 35-year-old father-of-two was fined £1,000.
Chorley had been out with Puncheon on the night of the row.