Stranglers back Guildford music venue after noise complaint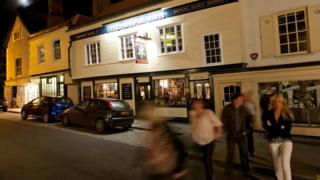 The Stranglers have pledged their support for the music venue where they played their first gig after fears a noise complaint could put it out of business.
The Star Inn, on Quarry Street, in Guildford, Surrey, has hosted thousands of music acts since the 1950s.
The council is investigating the pub after the developer of a neighbouring block of flats complained about noise.
Its manager said if a noise abatement notice is issued it could close down.
More than 17,300 people have signed a petition calling on the council to "see sense".
Manager Georgina Baker said the venue, which also hosts comedy acts, is "part of the historic fabric of Guildford".
Punk band The Stranglers, who were originally called the Guildford Stranglers, are most renowned for their hits Golden Brown, No More Heroes, and Peaches.
In a post on Twitter last week, they tweeted: "Save The Star!"
Folk singer-songwriter Frank Turner, who played at the venue when he was a vocalist in the band Million Dead, has also urged fans to save the site.
Ms Baker said small live music venues were "the lifeblood of the music industry" and could not be "just swept aside for luxury apartments".
"This is where huge numbers of bands get their break," she said.
"When the planning application went in five years ago we pointed out that it was ludicrous to put flats next to a live music venue overlooking a pub courtyard, but they wouldn't listen.
"Now sure enough the developer has complained and the council has finally realised that it might be a bit noisy in the flats."
Councillor Paul Spooner, the leader of Guildford Borough Council, said he intended to resolve the issue with council officers this week.
He added that he fully supported the "fantastic venue" and there was "no risk" to it under his tenure.