Epsom Hospital worker struck off for bullying staff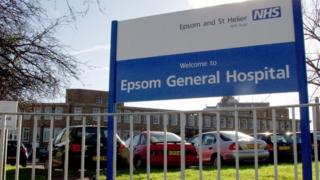 A senior hospital worker at a trust in Surrey has been struck off after a tribunal ruled he was guilty of "systematic intimidation and bullying".
Philip Henry had been employed as an operating department practitioner with Epsom and St Helier University Hospitals NHS Trust since June 2001.
The Health and Care Professions Council (HCPC) found he used "inappropriate and intimidatory language" to junior staff.
The trust said Mr Henry was "summarily dismissed" in July 2016.
In a statement, it said it would not tolerate bullying or harassment.
It added that it had since appointed two "Freedom to Speak Up Guardians", which allow staff to raise issues in a confidential manner.
In February 2010, Mr Henry was appointed matron for Epsom Theatres, based at Epsom Hospital, where he managed a team of eight people.
Concerns about his behaviour were raised during a Care Quality Commission visit in 2015.
'Illiterate Glaswegian'
The HCPC tribunal hearing took place last month to look at several allegations against him.
In one case Mr Henry reportedly described a colleague as an "illiterate Glaswegian", and in another he apparently told someone they were being investigated by human resources, which was not the case.
He was also accused of referring to female colleagues as "love" on an almost daily basis.
The HCPC panel concluded: "His use of words and wider attitude, particularly towards female members of staff, was entirely inappropriate in the busy surgical environment within which they worked, or indeed any professional environment, and in many respects constituted an abuse of power."
It added that he "undertook a sustained pattern of bullying and harassment towards a number of colleagues over a prolonged period".
However, it noted Mr Henry was of "previous good character".
It ordered that he should be struck off the HCPC register with effect from 16 May.