Surrey hospital staff in pyjamas to get patients out of bed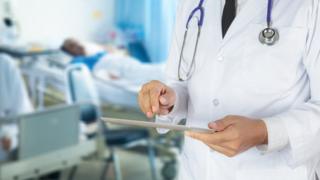 Doctors, nurses and staff at a Surrey hospital trust are to swap their uniforms for pyjamas in a bid to encourage patients to leave their beds.
Staff at Ashford and St Peter's NHS Foundation Trust are hoping patients will get dressed in their own clothes to help speed up their recovery.
The trust said the average patient in their 70s spent about 43 minutes out of bed each day.
NHS bosses say elderly patients can age by 10 years in 10 days in hospital.
The chief nursing officer for England, Prof Jane Cummings, has launched the #EndPJparalysis campaign to encourage patients to get out of bed and dress in their own clothes.
'Weak in pyjamas'
Prof Cummings said: "For many, wearing pyjamas reinforces feeling unwell and can prevent a speedy recovery.
"Getting people up and dressed is a vital step in ensuring that they do not spend any longer than is clinically necessary in hospital."
Between 16 and 20 April staff at the trust's hospitals in Ashford and Chertsey - including doctors, nurses, ward staff and receptionists - will be swapping their usual uniforms for pyjamas to highlight the initiative.
The trust's chief nurse, Sue Tranka, said: "Being in pyjamas reinforces the idea of being 'sick' and unable to be active, which prolongs the recovery process."
The Royal College of Nursing (RCN) is also backing the campaign.
Dawne Garrett, RCN's professional lead for the care of older people, said: "We all know from our own experience that staying in bed in pyjamas can make us feel weak and vulnerable when often we're on the mend and could be up and about."
"There's good evidence showing that moving about more reduces the amount of time older patients spend in hospital.
"It's also important for patients' dignity to spend as much time as possible in their own clothes."