Camberley artist's dragon 'could obliterate' world record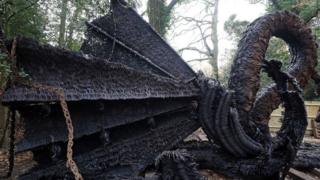 A 17.8-tonne sculpture of a dragon could have "obliterated" a world record, it has been claimed.
The mythical creature has been created from 50,000 horseshoes by artist and self-taught welder Jim Poolman.
Eddie Powell, owner of The Sculpture Park in Surrey, said Mr Poolman first offered two smaller works, but was told to make something bigger. He returned 12 years later with the dragon.
Mr Powell said they would be applying to set the world record.
The Guinness World Records website currently says the record for the largest horseshoe sculpture is held by Donnie Faulk in the US for a life-size horse made of 1,071 horseshoes.
Mr Poolman's sculpture is described as "not just a dragon but a tableau", telling the story of a village bringing a dragon from the sky with arrows and stones.
"It's partly collapsed," Mr Powell said, "brought to the ground, in its death throes."
Tens of thousands of old horseshoes were provided by farriers in Hampshire - some of them were used whole and others cut into smaller pieces.
"A complete horseshoe is quite limiting in what it can be made into," Mr Poolman said.
"But the small parts are remarkably versatile and highly effective in recreating the appearance of skin, feathers, bone and muscle."
He said he put the dragon together over 12 years, using a forklift truck and scaffolding, suffering injuries and burnt clothing in the process.
Mr Powell, who first viewed the dragon at Mr Poolman's Camberley yard, said: "If the yard had been a foot longer, the dragon would have been a foot longer.
"There wasn't an inch to spare. It filled the yard completely."
Describing it as "so massive, it's crazy", he said: "It's so huge, it's completely different to anything else on earth."