Swiss traitor honoured at Brookwood cemetery war memorial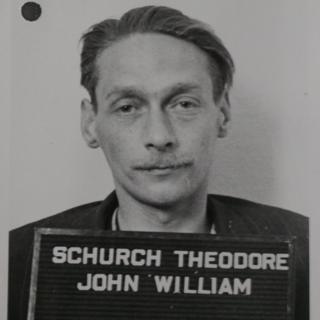 In 1946 a soldier became the last person to be executed for treachery in the UK but why does the traitor's name appear on a war memorial?
Theodore Schurch, who took his Swiss father's nationality, had been given special permission to join the Army.
While stationed in North Africa he was captured and later accused of passing information to the enemy.
As he was executed while still serving in the Army his name has been included on the Brookwood memorial in Surrey.
Tania Szabo, whose mother was murdered at the Ravensbruck concentration camp, told The Times: "If it is absolutely conclusive that a person betrayed the Allies of their own free will during the Second World War then they should be erased from public monuments."
But how did it end up there in the first place?
Writing in Britain at War, Andy Brockman said Schurch faced nine charges of treachery under Section 40 of the Army Act.
"He was also charged with desertion contrary to the Army Act. In other words, Schurch would be tried as a soldier under military law."
Buried with Dr Crippin
When World War Two broke out, Schurch was already serving in the Middle East and later took part in a campaign in North Africa, during which he was captured in Torbruk in 1942.
Normally the Swiss Red Cross would have been expected to notify the British authorities of his capture and he would have spent the remainder of the conflict in a prisoner of war camp.
Instead, he disappeared.
British intelligence services were first told of Schurch's alleged treason in 1943, and his name appeared in a 1944 list of British subjects who were believed to be aiding the enemy. He was arrested the following year.
A court martial hearing convicted Schurch and sentenced him to death by hanging.
He appealed twice, and petitioned the king for a reprieve, but to no avail.
On 4 January 1946, 27-year-old Private Theodore Schurch RASC, Service Number T/61711 was taken from his cell in Pentonville Prison and hanged.
He was buried in an unmarked grave in the cemetery at Pentonville, alongside five executed POWs, six spies, and Dr Hawley Harvey Crippen.
'Affront to the memory'
Following the end of the war, the War Office and the Imperial War Graves Commission (now the Commonwealth War Graves Commission) agreed those whose graves were unmarked would be commemorated, "in a manner which has not yet been decided".
For the Army that became the memorial at the Brookwood cemetery, which was unveiled by the Queen in 1958.
Because Schurch had still been a serving officer at the time of his execution and buried in an unknown grave his name was included on the memorial.
Mr Brockman said: "At least eighteen executed murderers are commemorated at Brookwood. Most were convicted of sex crimes or, in some cases, what were then termed, 'crimes of passion' involving wives, or girlfriends."
Mr Brockman told the BBC: "The records show that Theodore Schurch was tried, convicted and executed for treachery as a British soldier and nobody, in either the War Office, or the Home Office, seems to have had a problem with that in 1945.
"The result was that the then Imperial War Graves Commission had no discretion in commemorating him alongside those who died honourably while in uniform.
"However, in 2017 there will be people who will find the presence of Schurch's name on the memorial at Brookwood an affront to the memory of those who served honourably."