Robyn Mercer murder: Man jailed for forging victim's will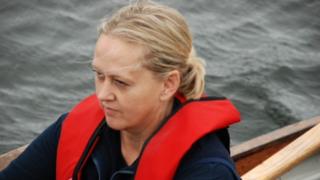 A man has been jailed for forging the will of an antiques dealer who was bludgeoned to death outside her home.
Robert Webb, 54, was facing eviction from the home he shared with Robyn Mercer, 50, and her two children in West Molesey, Surrey.
Mrs Mercer, 50, was killed with either an axe or a machete and found dead at the end of her driveway in Walton Road in March 2016.
Webb was jailed for eight months at the hearing at Kingston Crown Court.
Prosecutor Naomi Carpenter told the court the couple met in 2005 and bought a house together two years later.
Mrs Mercer's family said the relationship ended in November 2015 and Webb "took little or no action to leave".
The court also heard Mrs Mercer had asked her solicitors to draft a non-molestation and an exclusion order against Webb the month before her death.
Webb had remained in the house and continued to pay the mortgage, while Mrs Mercer's two children left the property after her death.
No will and last testament was found during the forensic examination of the property after her death.
'Shameful behaviour'
After his arrest, Webb told police he found the draft of a will signed by Mrs Mercer at their home but he had not got round having having it signed by witnesses.
Suspicions were raised when the forged document, witnessed by Webb's brother and a friend after Mrs Mercer's death, was dated during an unstable period in the couple's relationship.
Handwriting experts concluded that the signature on the document was not that of Mrs Mercer and had been falsified.
Webb claimed he had faked her will to "smoke out" the missing real one, which had apparently allowed him to continue living in the house after her death, rather than it be sold and her portion divided between her two children.
Sentencing Webb after he admitted one charge of making a false instrument with intent, Recorder Ian Peddie QC said: "This mean and callous offence had the effect of greatly exacerbating the effects and the emotional distress Mrs Mercer's children have suffered following the untimely and brutal death.
"It is shameful behaviour on your part."
One count of fraud will lie on file.
Despite a £10,000 reward offered by Crimestoppers and the case featuring on the BBC's Crimewatch programme, no-one has been charged with Mrs Mercer's killing.