Alps murders: 'No progress' five years after al-Hilli shooting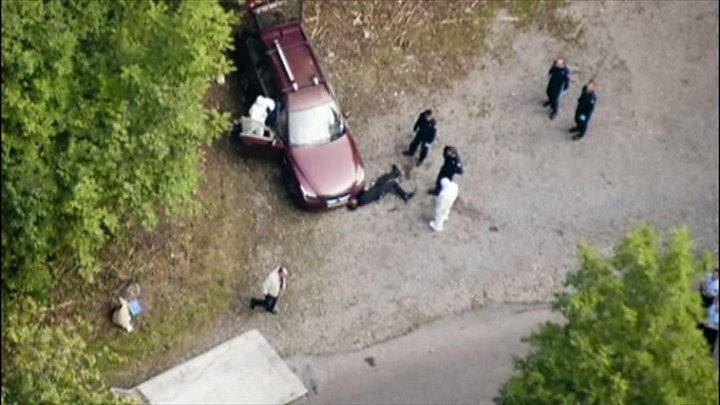 The brother of a British man shot dead while on a family holiday in the French Alps says he is frustrated with the lack of progress in the investigation.
The bodies of Saad al-Hilli, his wife Iqbal and her mother, Suhaila al-Allaf, were found on 5 September 2012. French cyclist Sylvain Mollier was also shot.
The couple's two young daughters survived the shooting near Lake Annecy.
The French lead prosecutor said it was the most complex case she had worked on.
Zeena al-Hilli, then four years old, was discovered hiding under her mother's body inside the family car, eight hours after the shooting.
Her seven-year-old sister Zainab was found with serious head injuries after being shot and beaten.
The bodies of the couple from Claygate, Surrey, along with Ms al-Allaf and Mr Mollier, were found on a remote road in Chevaline near where they had been on holiday.
Mr al-Hilli's brother Zaid said: "There hasn't been any progress in the case. The initial investigation [by French investigators] has been a total failure.
"They made claims against the family which they couldn't prove."
In 2013, Surrey Police arrested Zaid al-Hilli, who lives in Chessington, as part of the French investigation.
He was later released, with British police saying there was not enough evidence to charge him.
Surrey Police said it was continuing to provide support to the French investigation as part of the joint investigation team (JIT) established following the deaths.
It said officers had worked closely with the French authorities to progress a number of lines of enquiry in the UK.
The force said: "This is a complex inquiry. However, Surrey Police remains committed to helping find answers to what happened."
'Girls are fine'
He said the last time he had been in contact with the French authorities was "very briefly" in 2015.
The two daughters have been given new identities since the shootings.
"The girls are fine and doing well, and I'm in touch with them," Zaid al-Hilli said.
The French lead prosecutor, Veronique Dizot, said work was being carried out to identify the previous owners of the guns used in the attack, but she said there were no potential suspects in the case.
She said: "We have certain technical information about the weapons, but we have not yet identified the previous owner or owners of the weapons."
She told the BBC it was the most complex case she had worked on but there had been no progress in solving it.
"The only way forward is for a British judge to look into the investigation and give us some conclusions," Mr al-Hilli said.
"I don't think the French authorities were honest and we don't trust them and we don't have faith in them.
"Five years on I don't think we'll ever find out what happened."