No charges over killer John Lowe's returned shotguns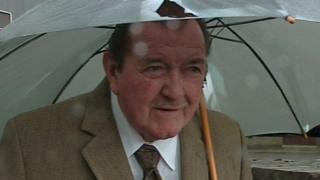 Two police staff who returned shotguns to a man who went on to murder his partner and her daughter will not face criminal action.
The civilian Surrey Police employees had been referred to Crown Prosecution Service (CPS) by the Independent Police Complaints Commission.
The CPS said there was insufficient evidence to take the case further.
The seized guns were returned to John Lowe who killed Christine Lee and her daughter Lucy seven months later.
Mrs Lee, 66, and her 40-year-old daughter were found shot dead at Lowe's puppy-breeding farm near Farnham, Surrey, in February 2014.
During his trial at Guildford Crown Court, it emerged that police had previously confiscated a number of licensed shotguns belonging to Lowe after Mrs Lee's other daughter, Stacy Banner, told officers Lowe had threatened to "blow her head off".
A spokesperson for the CPS said: "Following careful consideration we have concluded there is insufficient evidence to provide a realistic chance of convicting two civilian officers from Surrey Police in connection with the return of John Lowe's shotguns in July 2013.
"Therefore, the CPS will not be taking any further action against them."