Surrey garden village plan 'threat to air ambulance'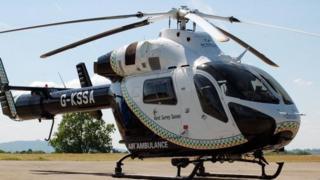 Plans for a new "garden village" in Surrey could force an air ambulance service to relocate, it is feared.
Redhill Aerodrome is one of five sites shortlisted for the 4,000-home development.
Bosses at the Kent, Surrey & Sussex Air Ambulance Trust (KSSAAT), which is funded by donations, fear it could cost up to £10million to find a new base.
The proposals are part of Tandridge District Council's plan to meet government housing targets.
Every year, KSSAAT doctors and paramedics treat nearly 2,000 people, usually suffering the most severe life-threatening injuries and acute medical emergencies.
Trust chief executive Adrian Bell said the development plans had created "uncertainty" for the service.
"When delivering a sophisticated and complex medical service as we do, uncertainty is not a comfortable place for us to operate in," he said.
He said the aerodrome's owners and Thakeham, the developer behind the garden village, understood the "dilemma" facing the trust.
"I can only hope the planning authorities, local politicians and decision makers will bring the same issues to the fore, at the appropriate time," he said.
Tandridge District Council leader Martin Fisher has said the area is 94% greenbelt land, and the council cannot meet the government's housing targets without building on some of it.
He said one new village is better than "scatter-gunning" homes around the county and cramping the current infrastructure.
A spokeswoman for the council said the idea will considered by the planning policy committee this month and, if agreed, will form the basis of further work on the authority's local plan.
She added: "No decisions have yet been taken and the operation of the Kent, Surrey and Sussex Air Ambulance will be a consideration when our planners weigh up the merits of five sites. The air ambulance trust would also be consulted as part of the local plan process."
Other sites under consideration are Godstone, Blindley Heath, Chaldon and Lingfield.
Property developer Thakeham is behind the plan and managing director Robert Boughton said: "We have held constructive discussions with Kent, Surrey and Sussex Air Ambulance about our plans, and we will continue to work with the charity to ensure that it can continue to deliver life-saving, exceptional care from improved facilities in the area."