Epsom Hospital chimney death trust admits failure in care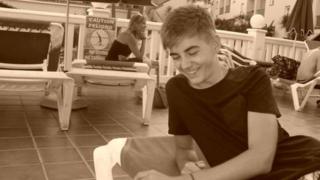 An NHS trust has admitted failing a patient who fell 130ft (39m) to his death from an industrial chimney on hospital grounds.
Adam Withers, 20, suffered from an acute psychotic illness and told staff at Epsom Hospital he wanted to climb the ladder of the chimney.
An inquest found Surrey and Borders Partnership NHS Foundation Trust had failed to reassess his risk levels.
It pleaded guilty at Guildford Crown Court and will be sentenced on 22 June.
'Tragic loss'
Mr Withers died of severe head injuries after falling from the chimney in May 2014.
The inquest jury concluded he had gone to the top of the structure and fallen from it unintentionally.
In a statement, trust chief executive Fiona Edwards said: "We are truly sorry for Adam's sad death and I extend my heartfelt sympathies to his family and friends for his tragic loss of life and the devastating impact this has had on them.
"By pleading guilty today we accept that we have fallen short of the standards defined by health and safety legislation and we will continue to co-operate with the Health and Safety Executive to bring this case to a swift conclusion."