Protest police accused of 'scare tactics' at Brockham and Leith Hill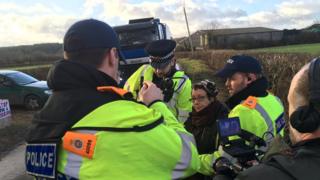 The police have been accused of using "scare tactics" to deter anti-drilling protests.
Eight activists have been arrested in three days on a lane used by lorries to access an oil field in Surrey.
Green MEP Keith Taylor said a recent report highlighted "bully boy tactics" by police forces "to squash anti-drilling protests".
Surrey Police said it recognised the right to protest in public but obstructing a highway was a crime.
Local green activist Jacquetta Fewster claimed officers were using "scare tactics" to ensure "residents are intimidated by heavy-handed policing to stay away from the oil drilling sites at Brockham and Leith Hill".
Two protest camps were set up last year close to the Brockham oil field near Dorking and a planned test-drilling site at Leith Hill.
Campaigners claim local people have become concerned at lorry movements.
But the oil field owner, Angus Energy, said operations had been ongoing at Brockham for 30 years and nothing had changed. It was first drilled by BP in 1987.
Mr Taylor has written to Surrey's police and crime commissioner David Munro asking him to "ensure peoples' legitimate rights are not undermined".
Surrey Police said it balanced the "rights of protestors alongside the rights of the lorry drivers".
It said anyone found obstructing a highway would be given verbal warnings then arrested as "a last resort" if they "consistently fail to desist".
Two women and a man were held on suspicion of breaking a law on "intimidation or annoyance by violence or otherwise".
Four women were arrested and bailed on suspicion of wilful obstruction.
Callum Edem, 20, of Old School Lane, Brockham, has been bailed to appear before Redhill magistrates on 13 February, charged with tampering with a motor vehicle.