Stolen Box Hill painted cow sculpture found in Newdigate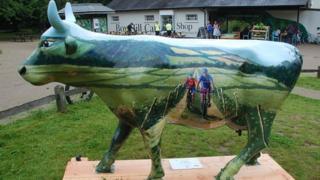 A fibreglass sculpture of a cow stolen from a beauty spot just before a charity auction has been found.
Cycling Moo Kay was one of 60 decorated cows that made up last summer's Surrey Hills Cow Parade.
It was taken in August from its plinth at the top of Box Hill, near Dorking, which formed part of the London 2012 Olympics cycling road race course.
The sculpture was found at a property in Newdigate by police. A man in his 40s was arrested on suspicion of theft.
The artist who painted it, Charlie Rowbotham, said he was delighted it had been found.
A charity auction of the cows in November - excluding Cycling Moo Kay - raised more than £130,000 which was to be split between 52 charities.
Cycling Moo Kay has now been been returned to organisers at Surrey Hills Cow Parade.