Sick lurcher pups dumped on Chobham doorstep recovering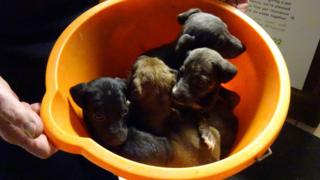 Five surviving lurcher puppies dumped in a bucket and left on a doorstep in freezing temperatures just days before Christmas are out of the "danger zone".
They were all suffering from the deadly bug parvovirus when they were abandoned in Chobham, Surrey. A sixth pup died a few days after being found.
RSPCA officials said they were about five or six weeks old and may have been bred to be sold as gifts.
Liz Wood, of RSPCA Millbrook, said they were recovering in "leaps and bounds".
"They were so lucky they were found, as if they had been there too much longer, they would have all died," she said.
"They have some skin and eye infections, but are responding well to treatment so we are hoping they will go on to make a full recovery."
The puppies, found in Halebourne Lane, were named after some of Santa's reindeer.