Epsom Hospital chimney death trust to be prosecuted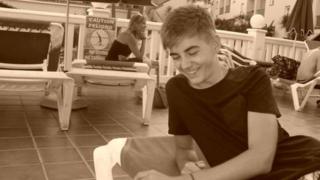 An NHS trust is to be prosecuted over the death of a mentally-ill patient who fell to his death from a chimney.
Adam Withers, 20, fell 130ft (39m) from an industrial chimney in the grounds of Epsom Hospital in Surrey in May 2014.
He had been diagnosed with an acute psychotic illness and had told staff he wanted to climb the chimney's ladder.
An inquest found failures by Surrey and Borders Partnership NHS Foundation Trust led to his death.
The jury concluded he had gone to the top of the chimney and fallen from it unintentionally.
It listed five failings which caused or contributed to Mr Withers' death, including the trust not reassessing his risk levels or taking effective steps to address the risk of patients absconding over a flat roof.
The trust now faces a prosecution brought by the Health and Safety Executive.