Leaking Guildford Spectrum leisure centre faces £80m rebuild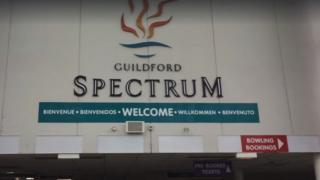 A leisure centre built 23 years ago could be replaced at a cost of £80m due to problems with its roof dating back to its construction.
Surrey's Guildford Spectrum is among the UK's largest leisure centres with facilities including an ice rink, four pools and a bowling centre.
But Guildford council said its roof has leaked since it was built in 1993 by contractors who went out of business.
The council is looking at replacing the venue, which originally cost £28m.
Deputy council leader Matt Furniss said: "Since it was opened, Spectrum sadly has leaked from the roof."
He said: "We are now looking at potentially replacing the facility on the same site."
Council papers said problems with the roof began as the centre neared completion in 1992. Other defects were also found.
A report said problems were mitigated in the short term in 2007 with £2m remedial works funded through a settlement with the original contractors' insurers.
But the building continued to leak and it was recognised the problem would get progressively worse, the report said.
Councillor Furniss said replacing the roof would cost more than £12m and he asked: "Is it worth replacing the roof at such a high cost?"
He said the council was considering keeping the current centre while building a new one next to it.