Soldier Ben Regan 'killed by speeding driver Jake Polmeer'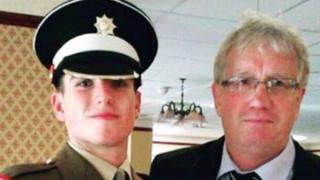 A soldier died after he was "knocked out of his shoes" and sent flying 50ft (15m) into the air by a speeding driver who fled the scene, a court has heard.
Jake Polmeer, 27, failed to see Coldstream Guardsman Ben Regan in the middle of the road in Reigate, Surrey, Winchester Crown Court was told.
Mr Regan, 20, was talking on his phone after he came out of Joules wine bar into Bell Street on 20 June last year.
Mr Polmeer denies causing death by careless driving.
Prosecutor Robert Rawson said experts estimated Mr Polmeer's Mini Cooper was travelling at least 36 mph in the 30 mph zone when the accident happened at about 02:00 BST.
After the crash Mr Polmeer, whose girlfriend was in the passenger seat, did not stop and drove home to Bushfield Drive, Redhill.
"He didn't stop, he didn't brake, he didn't even apply the brakes," said Mr Rawson. "He knew he was at fault and needed to get away."
Mr Pawson said the car swerved following the impact and hit the kerb before driving on.
The car, which had a smashed windscreen and dented roof, was found the following day at Mr Polmeer's home after a neighbour informed police.
Mr Polmeer later handed himself in to police.
He told officers he had drunk one or two pints of Amstel lager and, explaining why he drove away, said: "I hit him, I freaked out, I did something stupid and drove off."
Mr Polmeer also said Mr Regan had run into the road, which Mr Pawson said was contradicted by witnesses who said he had walked out.
London-based Mr Regan had been visiting his father in Reigate when he went to Joules with friends.
Doorman Alastaire Salvage said Mr Regan had been drinking but was not drunk.
"He walked between two cars, looked left, looked right, he got into the centre of the road where he got his phone out.
"I didn't see or hear the car coming before it him him. I then turned around to see him flying up the road and the car carrying on."
The trial continues.