Michael Sandford: Mum of Trump accused visits him in jail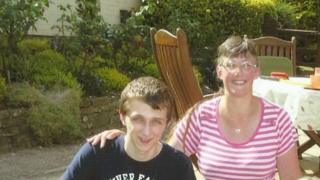 The mother of a Briton accused of trying to shoot and kill US presidential candidate Donald Trump has been allowed to visit him in jail.
Michael Sandford, 20, from Dorking in Surrey is accused of trying to grab a police officer's gun to shoot Mr Trump at a Las Vegas rally on 18 June.
His mother, Lynne Sandford, was allowed to visit him for the first time in jail in the United States on Thursday.
"We spent the entire visit hand [in] hand," Ms Sandford said.
'Heart-wrenching'
"I was quite tearful for a lot of it.
"My teardrops actually went through the screen and he was able to actually feel those which was heart-wrenching," she told ITV News.
She said her son felt "very defeated by everything" and just wanted to come home.
"We were allowed a few moments together privately at the end and we just hugged the screen. I was crying," she said.
Ms Sandford lost contact with her son after he left home to travel around America in January 2015.
The next time she saw him was when images of him being frog-marched out of the Donald Trump rally in Las Vegas were shown on TV.
She said her son needed care for a number of mental health conditions, including autism, OCD, depression and anxiety. She has argued he should serve any sentence in a psychiatric hospital in the UK.
Mr Sandford has been charged with being in the country illegally and disrupting government business.
He is due to stand trial on 3 October unless he accepts a plea bargain, his lawyer Saimo Chahal said.
He faces up to 10 years in a US prison if found guilty.