Police 'regret' over Milly Dowler phone hacking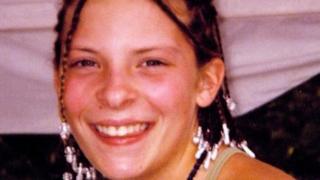 An internal Surrey Police report on the hacking of missing schoolgirl Milly Dowler's phone has concluded it should have been investigated but was not.
The force said the failure was a "matter of deep regret" and that it had apologised to the Dowler family for the distress it had caused them.
The News of the World contacted Surrey Police on 13 April 2002 to say it had information from Milly's voicemail.
The Operation Baronet inquiry was set up to establish how police responded.
'Unacceptable failure'
The report said that when it became apparent that messages on Milly's phone had been intercepted, the primary focus of the investigation team was "rightly" on finding Milly and bringing her killer to justice.
However, senior officers would or should have been aware of the News of the World's illegal actions and the matter of phone hacking should have been revisited and investigated at a later stage, the report said.
The failure to do so was "unacceptable".
Surrey Police said the investigation into Milly's murder, which resulted in the conviction of Levi Bellfield in June 2011, remains the largest inquiry ever undertaken by the force.
As part of Operation Baronet, in June 2012 Surrey Police and Surrey Police Authority voluntarily referred two senior officers to the Independent Police Complaints Commission (IPCC).
The IPCC carried out an independent investigation which concluded there was no case to answer for misconduct in either case.
The report accepts the hacking may not have been "seen for what it was" at the time.
The force said that in 2002 the phrase phone hacking had not been adopted and no-one knew the technique was being used illegally by some newspapers to get stories.
Operation Baronet found no evidence of any conspiracy or collusive relationship between officers and the News of the World or any other media, it said.
---
Milly Dowler Timeline
March 2002 13-year-old Milly Dowler is last seen walking home from Walton-on-Thames railway station after school
September 2002 Milly's remains are found in Hampshire and identified by dental records. The case becomes a murder investigation
March 2010 Former bouncer and convicted murderer Levi Bellfield, who lived near Walton station, is charged with Milly's murder
June 2011 Bellfield is found guilty and jailed for life
July 2011 News of the World is closed down by Rupert Murdoch in the wake of the Milly Dowler phone hacking revelations
November 2011 The Leveson Inquiry is held into the culture, practice and ethics of the press
---