Caterham flats demolition to begin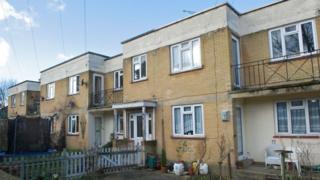 Work is about to begin on a £7m scheme to replace 20 flats built in the 1940s with 35 new homes for social housing tenants and shared ownership.
Leaseholders owned 12 of the Ninehams Gardens flats with the other eight belonging to Tandridge council.
Chris Botten, chairman of Caterham on the Hill Parish Council, said it had been "very challenging" for housing officers to find the tenants new homes.
"The council has done its best to support people," he said.
"None of the tenants or those in temporary accommodation was moved into hostels or bed and breakfast."
'Struggle with deposits'
He said the leaseholders, who sold their properties to the council, had been responsible for finding their own alternative accommodation.
"One or two were struggling with deposits but I think they are now resolved," he said.
Hoardings will go up round the site in the next week, to allow demolition to get under way, with new residents expected to move in next autumn.
The council said the existing properties reached the end of their natural life some time ago.
Structural surveys showed redevelopment was the most cost effective option.
The first new Tandridge council homes for 25 years have been completed in Acorn Gardens, Oxted and Eldon Road, Caterham.
The developments provide four two-bedroom and four three-bedroom houses.
Another site, in Bletchingley, has been granted planning permission for 10 flats and houses.