Donald Trump rally 'gunman' sorry, says mother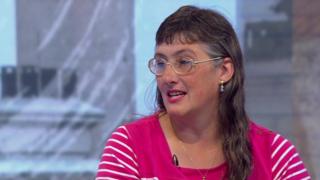 An autistic British man who tried to grab a gun from a policeman at a Donald Trump rally "feels a great amount of remorse", his mother has said.
Michael Sandford, from Surrey, is to stand trial for illegal firearms possession, following the incident.
His mother Lynne Sandford said he should instead face justice in the UK, where facilities were better.
She said his mental health problems meant he had not fully understood his actions until now.
The 20-year-old was arrested on 18 June when he tried to get hold of the officer's weapon at the Republican Presidential candidate's rally held at the Treasure Island Casino in Las Vegas.
'Out of character'
On Tuesday, a US court granted Mrs Sandford, from Dorking, permission to visit the detention centre where he is being held ahead of his trial, scheduled to start on 3 October.
She told the BBC's Victoria Derbyshire programme she was hoping to raise enough money to make the trip within the next few weeks. She added that she had not been able to speak to her son for five weeks after his arrest, but he had since made 15 reverse-charge calls, leaving her with bill of almost £3,000.
Mrs Sandford said: "When I speak to him, he's extremely distressed and upset. He feels a great amount of remorse for what he did and the impact it's having on the family.
"As long as he faces justice, I don't see why he can't be in the UK. The help he needs isn't really available over there."
Mr Sandford has denied charges of disrupting an official function and weapon possession.
US authorities say he told federal agents he had driven from California to Las Vegas with a plan to kill Mr Trump, practising at a firing range the day before the rally.
Mrs Sandford said: "He's still very much a little boy in an adult's body. This is completely out of character."
She added that her son had Asperger's syndrome, obsessive compulsive disorder and depression, and only now understood what he had done, saying: "He didn't realise at the time. He has diminished understanding."
Mr Sandford faces up to 30 years in prison if convicted.
The Victoria Derbyshire programme is broadcast on weekdays between 09:00 and 11:00 on BBC Two and the BBC News channel.