Fly-tip warning over Surrey's new recycling fees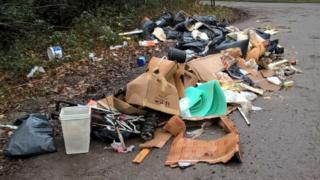 Charges imposed at recycling centres in Surrey could result in a rise in fly-tipping, it has been warned.
From September, households in Surrey will be limited to one free bag of some garden or building waste a day. Further bags will cost £4 each.
The county council said £1.8m savings would help pay for adult social services.
But Keep Britain Tidy said it was concerned about extra rubbish piling up on streets.
Its chief executive Alison Ogden-Newton told BBC Surrey: "It's got to be easy for people to do the right thing otherwise we will see an increase in fly-tipping."
District councillor Alun Jones said fly-tipping was already a big problem in Surrey, having risen 40% in the past year in Tandridge alone.
"You get big industrial waste, right down to carpets and bits of plasterboard, left in local parks," he added.
Surrey County Council said the new fees and reduced hours at its nine community recycling centres would save £1.8m a year and help towards the rising cost of adult social care.
Environment councillor Mike Goodman said in a statement: "People can still get rid of one bag of DIY waste a day for free... (we are) keeping all Surrey's recycling centres open and affecting only those doing more significant construction work."
The charges also include £50 for a car load of loose waste and £5 for a tyre from a motorised vehicle.
The council said "household waste and crockery" would remain free to recycle, as would clay flower pots and garden ornaments.