Zane Gbangbola death: Parents thank supporters for legal cash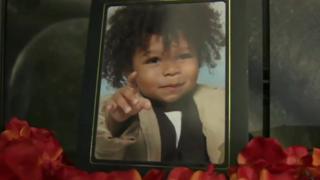 The parents of a boy who died in the 2014 floods have publicly thanked those who helped raise money for a lawyer to represent them at his inquest.
The family said they could not have afforded a QC themselves after the Legal Aid Agency decided the case "was not in the public interest".
Seven-year-old Zane Gbangbola died at his home next to the Thames in Chertsey, Surrey on 8 February 2014.
The coroner is to deliver his verdict on 6 or 7 September.
Over five weeks, the inquest heard detailed scientific evidence about what gas may have killed the boy.
A post-mortem examination suggested it could have been carbon monoxide fumes from a petrol-driven pump used to clear floodwater from the premises.
But the hearing was told the amount of carbon monoxide in his blood was significantly lower than fatal.
Zane's parents believe he was killed by hydrogen cyanide in floodwater polluted by a former landfill site to the rear of their home.
The family's campaign managed to raise £70,000 to hire a lawyer, including £25,000 from an anonymous supporter.
Zane's mother Nicole Lawler said: "We could not have done it on our own. There is absolutely no way we could have represented ourselves. And without the funding the public put together to help us get a QC, we really did not stand a chance."
Her partner Kye Gbangbola said it was important there was "parity of arms".
"There were six QCs against us in an incredibly complex case," he said.
Surrey Coroner Richard Travers retired to consider his verdict on Monday.