New £2.7m bridge after Guildford pedestrian deaths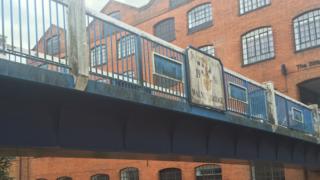 A new £2.7m bridge for pedestrians and cyclists has been approved after two shoppers were killed in a town centre.
A car mounted a kerb and hit people walking next to a gyratory in Guildford, Surrey in February.
Councillors hope the new bridge will become a main route for pedestrians heading into the town centre.
It will replace an existing narrower footbridge over the River Wey in the Bedford Wharf regeneration area in 2018.
The deputy leader of Guildford Borough Council, Matt Furniss said: "Its dynamic, innovative design will transform this part of town. It will provide a gateway to the station.
"The current entrance to the bridge is hidden on the station side... only regular pedestrians use it."
The gyratory deaths prompted an 11,000-strong petition calling for speed cameras, a 20mph limit, iron railings and better pavements.
Design work has also begun to improve the junction of Onslow Street and Bridge Street with a raised roadway, repositioned stop lines, and reconfigured signals at a pedestrian crossing.