Robyn Mercer death: Police seek dog walker 'witness'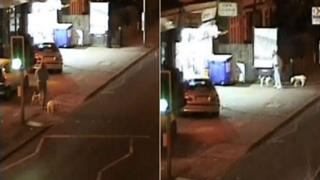 A dog walker captured on CCTV the night before a woman was found murdered outside her home in Surrey could have vital information, police have said.
The man was with his two dogs in Walton Road, West Molesey, on the evening of 13 March near where the body of Robyn Mercer was found the next morning.
Antiques specialist Ms Mercer, 50, died from multiple blows to her head.
Three men and two women arrested in connection with her death have been bailed until September.
Police said the dog walker was not a suspect but could be a potential witness with new information.
He was wearing light coloured tracksuit bottoms and hoodie.
The dogs are similar to a light-coloured Staffordshire bull terrier and a Jack Russell with a white coat and black and brown markings.
He was seen going into a shop next to the Lord Hotham pub and near the green in Walton Road.
Ms Mercer, who worked at JH Bourdon-Smith in Mayfair, west London, was found outside her house in Walton Road.
Det Insp Paddy Mayers said police still wanted to speak to anyone with information who has not yet come forward.
"Please don't think that because it is now a number of months since the brutal attack took place that we don't need to hear from you," he said.
"You may have a detail which could help and bring some form of closure to the victim's devastated family."
The Crimestoppers charity has offered a reward of £10,000 for information, which is valid until 27 July.