Thorpe Park Colossus rollercoaster stopped after rider 'stuck leg out'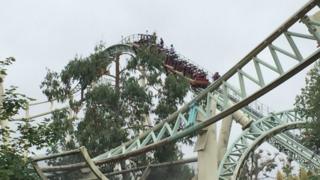 A rollercoaster ride had to be stopped mid-ride when someone put their leg outside the cart.
The Colossus at Thorpe Park, Surrey, was halted when staff saw on CCTV that someone had "ignored restrictions".
A spokeswoman said the ride was stopped and passengers were evacuated as soon as possible.
No-one was hurt and the Colossus was "back up and running" a short time later.