Surrey farmer Robert Fidler's 'no regrets' over 'hidden castle'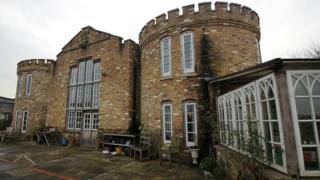 A farmer who built a mock Tudor castle without planning consent and hid it behind hay bales says he has no regrets after following orders to demolish it.
Robert Fidler, who built the house at Salfords in the Surrey greenbelt, was ordered to tear it down or face jail.
Reigate and Banstead Borough Council officers visited the site on Wednesday and confirmed the case was now closed.
Mr Fidler said the loss of his house was "about as close as you'll come to terrorism in Reigate and Banstead".
"You know the only place you'll see a beautiful property like this demolished for no good reason is a war zone, an earthquake, or some suicide bomber or some terrorist action.
"And that's all I can equate it to," he said.
Mr Fidler built his four-bedroom home some time between 1999 and 2006 in secret and hidden behind hay bales.
The bales were removed in 2006, revealing his castle, which included a kitchen, living room, study, gravelled forecourt and a conservatory.
He claimed it was legal because it had existed for four years (albeit hidden behind the hay bales) and thus complied with planning law which allows a building to become lawful if it has been complete for four years.
In 2007 Reigate and Banstead Borough Council served an enforcement notice requiring the house to be demolished, leading to almost a decade of legal battles - along with a 1,840-strong petition to save the property.
On 9 November, a High Court injunction required him to remove the house and other unlawful structures and return the land to its former state.
Mr Fidler began taking down the structure in March after he lost a High Court fight to save his home.
At a hearing on 6 June, Mr Justice Dove granted a four-week adjournment for Mr Fidler to remove remaining structures, including brickwork, a patio, a garden wall, steps and a pond to comply fully with the order.
A council spokeswoman said officers had previously advised Mr Fidler on how he could lawfully provide accommodation in other buildings on his site.
Speaking on Thursday, Mr Fidler maintained that he had always followed the rules.
"It was after waiting for years, having put in a proper planning application and the council just failing to do their job responding to a planning application, that we decided to use what is called 'the four-year rule' [a planning law which allows a building to become lawful if it has been complete for four years].
"It's a perfectly legal way of putting up a property, and if there's one thing I want to get across to the public today is that I never broke one law," he said.