Warlingham Rugby Club condoms get members to 'join family'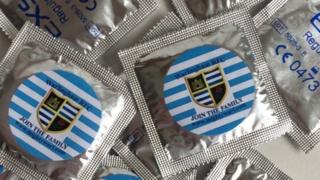 A Surrey rugby club has started handing out branded condoms to attract new players in a bid to get its name better known.
The condom packets show the Warlingham Rugby Club logo with the slogan "join the family".
Club chairman Peter Mattison boasted the move was "bold" and "quirky" and described it as "a bit on the edge".
Players and members will give out the free condoms while socialising in local bars and clubs.
"In the past we've used posters and other advertising campaigns to recruit players," Mr Mattison said.
"But we really wanted to get the Warlingham RFC name out there and what better way than to use our brand to promote both the club and a socially-responsible attitude?"
He said as long as young men and women who may want to play rugby saw it as an amusing way to catch their attention - and join the Warlingham family - then "job done".
The club, which is in its 95th year, is training throughout the summer on Wednesday evenings and has said all are welcome to revive their playing or give the game a try.