Fighting in Guildford street after England-Russia game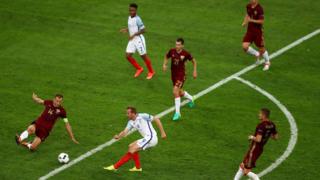 Three people were injured and one man was arrested in Guildford when a fight broke out involving a "large group of people" after the England-Russia tie.
Bottles and glasses were thrown when violence flared on Stoke Road on a stretch between two pubs.
Police said the injured were treated for cuts and bruises and there was a "considerable amount of damage".
A 26-year-old Leatherhead man was arrested on suspicion of assault and remains in custody.
Det Sgt Dave Bentley said: "This was an unpleasant incident involving a large group of people which broke out in the street after the football match.
"A number of people were injured as a result of a number of bottles and glasses being thrown and there was also a considerable amount of damage caused."