Zane Gbangbola flood death: Legal aid refused again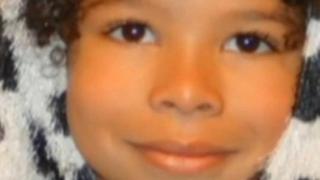 Legal aid has been refused for a third time to the family of a Surrey boy who died during floods in the county.
Zane Gbangbola, seven, died at his home in Chertsey in February 2014. An inquest is due to start on Monday and last several weeks.
His parents said the latest decision "twisted a knife in their back" as they lost time preparing to represent themselves.
The Legal Aid Agency has deemed the case is "not in the public interest".
The family disputes post-mortem findings which suggest Zane died of carbon monoxide poisoning from a petrol-driven water pump at their property next to the Thames.
'Rock bottom'
They believe he was killed by hydrogen cyanide in floodwater contaminated by an old landfill site next door.
Zane's mother Nicole Lawler told BBC Surrey: "The Legal Aid Agency themselves contacted us and asked us to reapply, given the new evidence of hydrogen cyanide. Our hopes were built up and it has wasted weeks of time. We are at rock bottom.
"We are trying to find £70,000 just to get a death certificate and hopefully from that some recommendations on landfill.
"We will fight to get Zane a truthful, dignified answer."
A spokesman for the Legal Aid Agency said: "We recognise this is a tragic case and we have examined their new legal aid application in great detail.
"Our decision remains, the circumstances of this case do not meet the requirements for receiving funding, which have been set out in law".
It said there were strict conditions relating to legal merits, human rights and significant wider public interest.