Ambulance fires at East Surrey Hospital due to electrical fault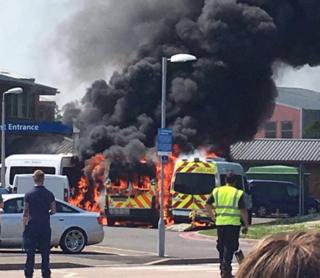 A fire that destroyed three ambulances and caused a huge explosion outside a hospital in Surrey was caused by an electrical fault, fire crews have said.
The blaze started in a private ambulance that had just brought an elderly patient to East Surrey Hospital, Redhill, on Monday.
It was parked when oxygen cylinders exploded. No-one was injured.
The fire spread quickly to two vehicles parked next to it belonging to the South East Coast Ambulance Service.
Huge plumes of black smoke could be seen rising into the air at the height of the blaze and the hospital was temporarily closed to emergencies.