Crossings 'to be improved' after Guildford fatal crash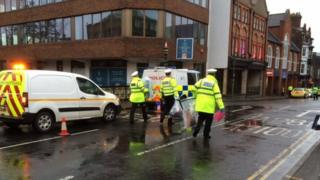 Pedestrian crossing points will be improved in a Surrey town centre after two pedestrians were killed, the county council has pledged.
Kat Garrett and Del Kendall died in February when a Land Rover Defender mounted the kerb and hit shoppers in Bridge Street, Guildford.
Work on a new £2m pedestrian bridge linking the station to the town centre is to start in autumn 2017.
Councillor John Furey said the crossing points would be improved sooner.
"We will look at those and we can do something very quickly," he said.
"It is not going to happen overnight but it is on an immediate agenda."
Mr Furey was speaking after a meeting of Surrey County Council (SCC) which received an 11,000-strong petition calling for iron railings, a 20 mph speed limit, speed cameras and changes to the pavements in Bridge Street.
The petition was handed to Guildford Borough Council in April but was then passed to SCC as the highways authority.
University of Surrey student George Bowen, a spokesman for the petition organisers, said the families of those who died wanted something done.
"This road is just not safe," he said. "I was speaking the other day to a friend who was hit on Bridge Street and she said she was lucky to come away with her life so this is an issue that is continuing."