Nine prison officers used as 'punch bags' at Surrey jail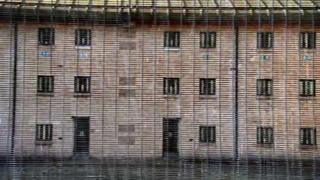 Nine prison officers have been attacked as "punch bags" in two weeks at a jail in Surrey.
The Prison Officers Association (POA) said its members at High Down in Banstead suffered broken jaws, noses and a broken wrist.
The POA said one was knocked unconscious and it blamed "chronic staff shortages".
The Prison Service said officers' safety was "paramount" and several inmates had been moved.
POA vice-chairman Ralph Valerio told BBC Surrey: "We are there to keep order and discipline and to try to rehabilitate people, we are not there to be punch bags."
He said inmates were not getting enough time out of their cells because of staff shortages.
Violence
In March independent monitors warned of "increasing levels of violence" at High Down. Its report said staff numbers had improved but there was "still not enough to truly engage with prisoners".
In a statement, a Prison Service spokesperson said: "HMP High Down has taken immediate action against those involved in a recent spate of attacks on prison officers, including transferring a number of offenders and bringing in additional staff from other prisons."
The Prison Service said eight new staff would start in coming weeks but rejected claims by the POA that 29 officers were currently off sick.
It said it was investing £1.3bn to "transform the prison estate over the next five years".
Andrew Neilson of the Howard League for Penal Reform said budget pressures made it harder to cope with overcrowding.